Lift Driving Unit with A.C. Single/Two Speed Motor
Robust drive unit for efficiet and smooth operation of lifts of all types : Passenger, Stretcher, Goods, Dumb-Waiter.

As an established 'MILAN' tradition, to achieve vibration free running of the gear at high efficiency and to ensure long durability, accurate teeth cutting of the worm wheel is followed by careful matching and running-in of each worm gear box.

All the phosphor bronze bush bearings are automatically lubricated. This guarantees silent running. No oil seals are required.

To withstand the axial thrust, double thrust ball bearings are provided at one end of the worm shaft.
1. Lift Motors
Lift Motors are specially designed for high starting torque at low starting current. Automatic lubrication of phosphor bronze bush bearings is provided for silent running.
Two speed lift motors are designed to minimise any jery, both when accelerating after a start or when decelebrating prior to a stop.
Specially designed double cage rotor achieves noiseless acceleration with low starting current.
2. D.C. Magnetic Brake Device
Electrical interlock achieves simultaneous operation of brake and motor. The motor cannot get power supply unless the brake is released and vice versa.
Large braking surface ensures less vibration in floor levelling. Two compression springs ensure positive braking action with imperceptible stopping jerk. Practically noiseless operation in keeping with 'MILAN' tradition of simple design and minimum maintenance.
Controller
'MILAN' Control Circuits, always updated, are designed to ensure utmmost safety for lift users. Contact points of relays and contractors have self levelling and non-welding feature and are designed to withstand 240 switches per hour.

All relays and contractors are manufactured in our works, to ensure quality and trouble free long life. All control panels are wired with copper conductor.
Push Button Boards
'MILAN' push button boards are provided with aluminium anodised/stainless steel face plates with round ebonite push buttons silver tipped against bronze contacts to ensure immediate contact with a light pressure.
Landing push boards consist of one lift call button, one call bell button and two direction signals, for dual push button control.
Landing button boards for lift with automatic doors, consist one push button for lift call, one for call annunciator, direction signals and Digital car position indicator.
Landing boards for Collective-Selective lifts, Consist of buttons for registrering up & down lift call, direction signals for call registered as well as a digital car position indicator.
Car push button board for dual push button control, consist of buttons for floors, for alarm and stop. Key operated switch for Automatic/Attendant operation and switch for fan.
Car push button board for Automatic doors. Collective-selective controls, consist of buttons for floors. stop, alarm and switch for fan. Digital call annunciator illuminating display of each floor parallel to respective push button and direction reversal buttons.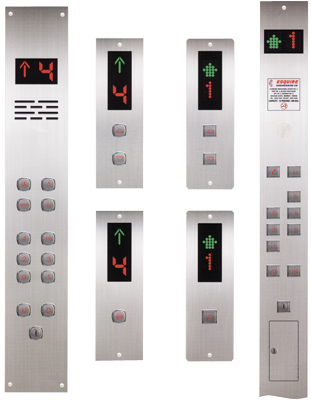 Cabin Interiors
'MILAN' offers its clients the ultimate choice in choosing the Cabin interiors for each individual elevator. Each Milan lift reflects the clients tastes and purpose because the client is involved in picking up all the minute details on how the lift interior would look after installation.